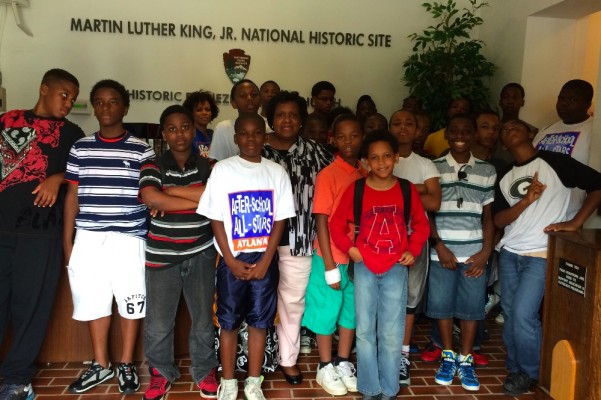 This year we are partnering with the Andrew and Walter Young Family YMCA  to support the teenagers at the Maya Angelou Teen Center with gifts from our community partners this Christmas season.
100% of your donations will go to buying 100 teenagers in the Maya Angelou Program $20 gift cards from Wal-Mart and hosting a Christmas party for them on DEC 16, 2014.
The Maya Angelou Teen Program at the Andrew and Walter Young Family YMCA seeks to positively transform the lives and belief systems of local teens through providing them with leadership and personal development skills, health awareness education, financial/economic empowerment, career readiness and service projects.
The social and civic growth of these youth is intricately connected to the future and growth of our surrounding community.
Each of these teens will one day reach and influence the lives and neighborhoods of so many others here in southwest Atlanta and beyond.
Unfortunately, the population served by the Andrew and Walter Young YMCA battles the 32% poverty rate plaguing this community's children and families.
Many of the children come through the doors of the YMCA every afternoon not only to find a safe place where they can still be kids, but often because they know this is a place where they can find a meal.
For many of these teens, the festivities held at the Young Family YMCA will be the only one they receive at home or at school.
Please help show the young people that they are loved and worthy of celebration during this Christmas season and help us make a difference in the Atlanta community and in the lives of these teens this Christmas season.
Live in Atlanta? If you are interested in attending the YMCA Christmas Party for the Maya Angelou Teen Center, please see details below!
RSVP:
Please email lindadean@comcast.net or call Linda @ 404.313.3691 with a list of guests you will be bringing to the event.
Location:
Andrew and Walter Young YMCA
2220 Campbellton Rd SW, Atlanta, GA 30311
Time: Tuesday DEC 16 @ 5 PM – 7 PM
Donation Deadline:  SAT, DEC 13, 2014
May GOD bless you and your family during this holiday season as we celebrate the birth of our Savior!
Merry Christmas!
Ross Mason
Ross Mason, Founder
HINRI – The Healthcare Institute for
National Renewal & Innovation
HINRI Labs is a 501c3 headquartered in Atlanta, GA. Please see www.hinri.org for more information about our work.
The Spirit Catches You and You Fall Down by Anne Fadiman (August 29) Woo Nam Jeong/Stone Bowl House 5953 Buford Hwy. NE,Atlanta,GA,30340-1375
The Hundred-Foot Journey by Richard C. Morais (Sept. 19) Havana's Restaurant, Atlanta's Original Cuban Restaurant 3979 Buford Highway #108, Atlanta, Ga 30345
Elephant Company: The Inspiring Story of an Unlikely Hero and the Animals Who Helped Him Save Lives in World War II by Vicki Croke (Oct. 31) 655 Highland Avenue Northeast #10, Atlanta, GA 30312
In the Kingdom of Ice: The Grand and Terrible Polar Voyage of the USS Jeannette by Hampton Sides (Nov. 21) Location: Newks: 305 Brookhaven Ave. A1100 Atlanta, GA 30319
Holiday Book Club Gift Exchange (December 10th) Newks: 305 Brookhaven Ave. A1100 Atlanta, GA 30319